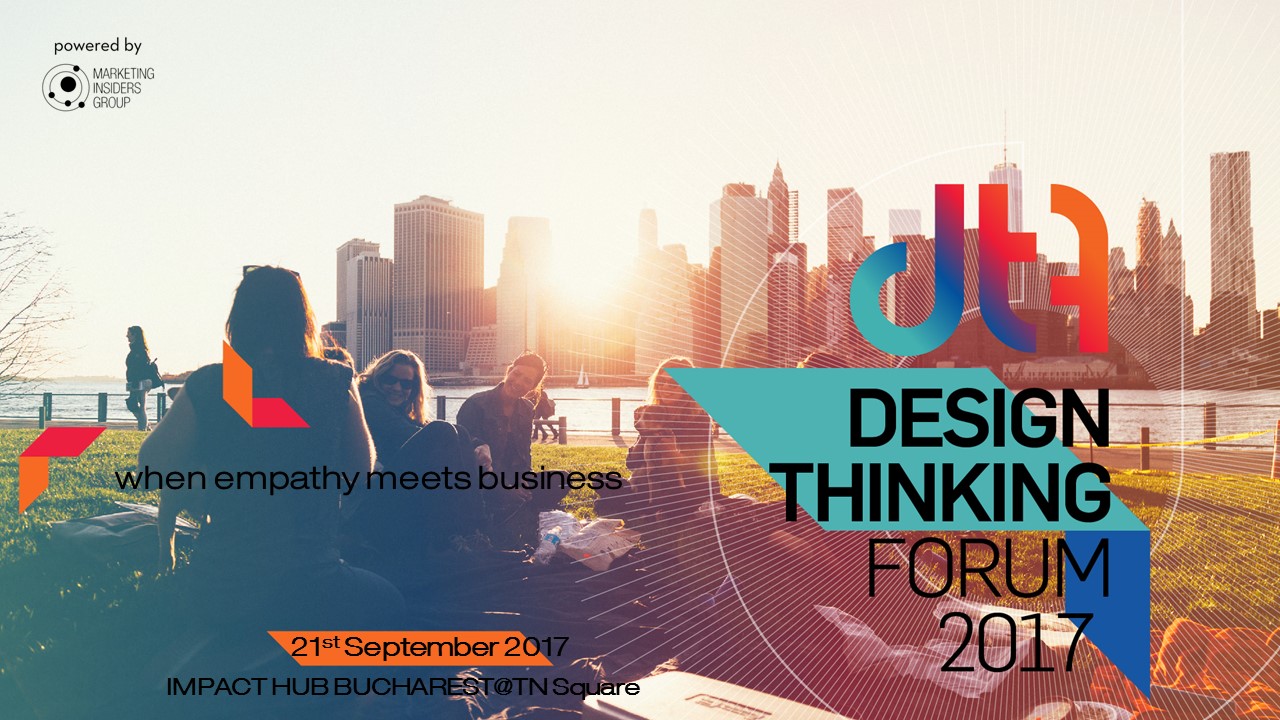 Design Thinking Forum - when empathy meets business, prima conferință dedicată din România
În aceasta toamnă Marketing Insiders Group, în parteneriat cu Magda Ropotan și Design Thinking Society, aduc în prim plan inovația organizând pe data de 21 septembrie 2017 prima conferință din România exclusiv dedicată Design Thinking, găzduită la Impact HUB@Timpuri Noi Square.
Design Thinking este o metodă deja foarte populară în mediul business din Vest, datorită capacității de a cataliza inovația și a crea soluții rapide, fiind un instrument notoriu în companii precum Apple, Pepsico, Samsung, Bank of America. Metoda aduce în prim plan competențe cu prezență deficitară în structura afacerilor de azi, precum empatia față de client, regândirea diverselor situații apărute din perspectiva experienței utilizatorului, lucrul in echipe multidisciplinare și experimentarea rapidă a soluțiilor generate în urma aplicării ei.
Conform Design Management Institute (SUA, martie 2014), companiile ghidate de design în procesele interne și-au depășit financiar colegii din industria în care activează cu 228% în ultimii 10 ani.
Peste 100 de reprezentanți din top management, specialialiști în marketing, new product development, digital & IT, HR și antreprenori interesați de inovație sunt așteptați să intre în contact cu speakeri naționali și internaționali recunoscuți pentru rezultatele obținute.
La acest moment sunt confimați:
- Aga Szostek – Founder, UX Plus, Polonia
- Eliane Tozman – Head of Innovation, IBM, Canada

- Mike Parsons – Chief Innovation Officer, Qualitance, Australia
- Magda Ropotan – Founder & Innovation Coach, Design Thinking Society, România
- Oana Cordea – AVP, Lean Digital Master Blackbelt, Genpact, România

- Oskar Dekkers – CEO, Bruil Beton & Mix, Olanda
- Paul Bulencea – Co-Founder, College of Extraordinary Experiences, România

- Violeta Neniță – Store Manager, IKEA, România


Printre temele abordate:
Apariția Design Thinking ca o nouă filozofie de management
Povești inspirate din realitate: focus pe studii de caz
Când totul începe având clientul în gând
Creează un nou viitor pentru afacerea ta, cu ajutorul Design Thinking
Trecerea de la B2B la Human2Human în industria serviciilor
Leagă realitatea de cercetare, prin Design Thinking
Dezvoltarea tehnologiilor human-centric
Instrumente utile și metodologie practică pentru situații de business complexe
Design Thinking Forum beneficiază de sprijinul următorilor parteneri:

Maastricht School of Management România, Produsul Anului în Inovație, Netherlands Romanian Chamber of Commerce, Atelierele de Antreprenoriat, Social Impact Award, Global Shapers Bucharest Hub, Revista Cariere.


Principal partener media: Radio Tananana
Pentru mai multe informații referitoare la înregistrare și parteneriate vizitați:
http://www.conference-arena.com/design-thinking-forum

Facebook link: https://www.facebook.com/designthinkingforum/


Contact
| CRISTINA VIDU |
Business Development Manager
Email: cristina.vidu@market-insiders.com |
Mobil: +40722 247 552


Despre
Marketing Insiders Group
Strada Popa Savu 77, 011432, sector 1, București
Telefon: +40 21 411 44 20

Cu peste 40 de branduri internaționale în portofoliu, M.I.G. și-a demonstrat experiența în toate ariile de expertiză din domeniile marketing și Customer Care, din 2004.

· Echipă multidisciplinară de specialiști

· Peste 100 de conferințe organizate în arii profesionale dedicate

· Fondatori ai seriei European BPO Forum, organizată în Viena

· Fondatori ai Enlightening Leadership School

· Fondatori ai Asociației Române a Contact Centerelor
· Fondatori ai Romanian Contact Center Awards
· Membri ai juriului în cadrul Stevie Award

Aflați mai multe vizitând: http://market-insiders.com/