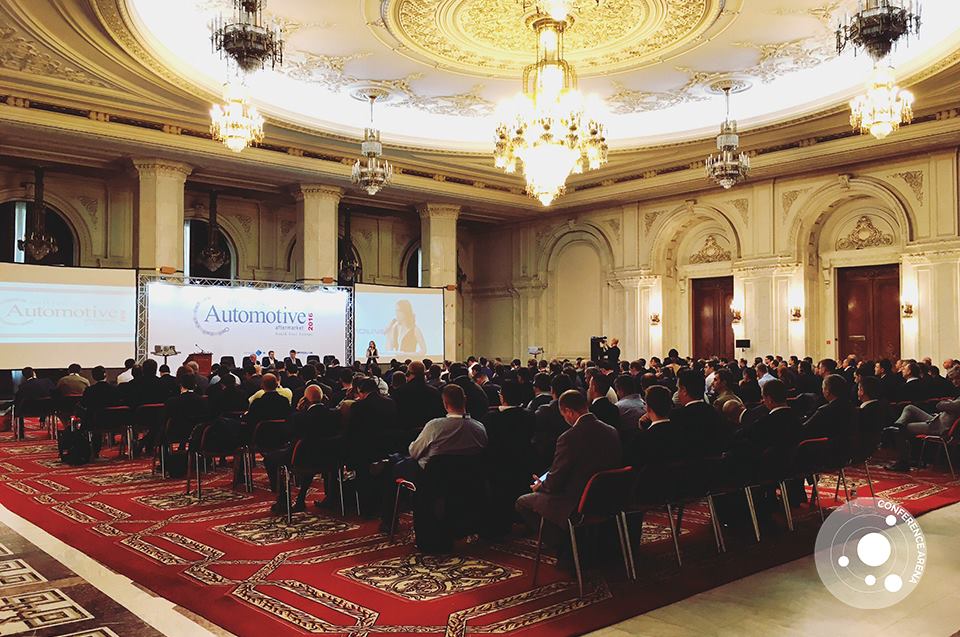 The 3rd Independent Aftermarket Conference for South East Europe
This year Bucharest had the chance to host the 3rd Independent Aftermarket Conference for South East Europe which took place on October 20th, at the Palace of the Parliament.
The first two editions of Independent Aftermarket Conference were successfully held in Belgrade in 2014 and 2015 and brought together participants from 22 countries. This year's edition was under the sponsorship of FIGIEFA (International Federation of the Independent Automotive Aftermarket Distributors in Brussels). Recent years have seen South East Europe experience significant changes. With a view to the future, IAM Conference's aim was to bring together Europe's aftermarket elite to discuss and exchange new business models, trends and opportunities that exist in the sector. The conference was presided over by Mr. Hartmut Rohl, as acting president of FIGIEFA and GVA (German National Association of Aftermarket Traders, and moderated by our own Romanian representative, Mrs. Ileana Bunescu, Sales and Customer Service Regional Manager, EU Europe at British Council Romania.
The following presentations were included on this year's agenda:
- H.P. Röhl (FIGIEFA) - Situation of the IAM in Europe - Results / Conclusions of Belgrade Conferences - Aim of this Conference - Introduction of the IAM Association SEE

- Alexander Brenner (Roland Berger) - Trends and Challenges for the IAM

- Dr. Jens Rothenstein (IFH Cologne: Center for Research and Analysis in Retailing) - Online Business B2B – perspectives of a new distribution channel for automotive parts

- Philipp Jaenicke (Roland Berger) - Future Business Models for Parts Wholesalers
- Austin Brent (Amazon Automotive) - Connecting Manufacturers and consumers

- H.P.Röhl - Lobbying for the IAM in Europe – R2RC (Right to Repair Campaign) / R2CC (Right to Connect Campaign )
- Alfred Franke (SDCM) - How we created the IAM Association and how it is working on the market in Poland.


Also, two panel discussions were moderated by R.P.Rohl: The experience of IAM Associations in other countries, including: Joaquim Candeias, Portugal - Alfred Franke, Poland - Eyal Tarablus, Turkey and How the International Trade Groups help to develop the IAM, with ITG's representatives.
The Gala Dinner took place later in the evening at Caru' cu Bere Restaurant.
The conference brought together 250 experts from the automotive aftermarket industry. The participants had the occasion to expand their knowledge with the latest ideas in the field, to meet and partner new business contacts and to share experiences and best practices.
This edition's Gold sponsors
were: Adacta, Slimstock and DVSE.
Media partners
: AutoExpert, MotoXpert, FloteAuto and xmeditor Romania.
Marketing Insiders Group
was the conference's logistic partner.

Mr. Rohl has expressed his opinion regarding the conference, by saying that this is a very important event for the fragmented Southeastern Europe market, highlighting the need for putting it on the map as a traditional event. He believes that the IAM conference will stimulate regional players to support and defend the rights of the automotive aftermarket while creating a more stable cooperative environment for future development.
With the objective of strengthening the bonds between its members and emphasizing the importance of the unfairly neglected independent aftermarket (with a potential of nearly EUR 6 billion in SEE), IAM Conference SEE brought together leaders of all European traders and suppliers, so as to turn IAM into a more compact and recognizable industry.






About Marketing Insiders Group

Perfect Circles for Square Business


With over 40 international brands in portfolio, M.I.G. has proved its expertise since 2004 in all marketing and Customer Care territories. Whether large surfaces of communication, spheres of organizational competence or niche points of interest, M.I.G. team provides all marketing and Customer Care tools for its clients. More than 100 conferences organized in key spaces, founders of European BPO Forum Series in Vienna , founders of Enlightening Leadership School, founders of Romanian Contact Center Association, founders of Romanian Contact Center Awards, part of Stevie Award Jury for several years.