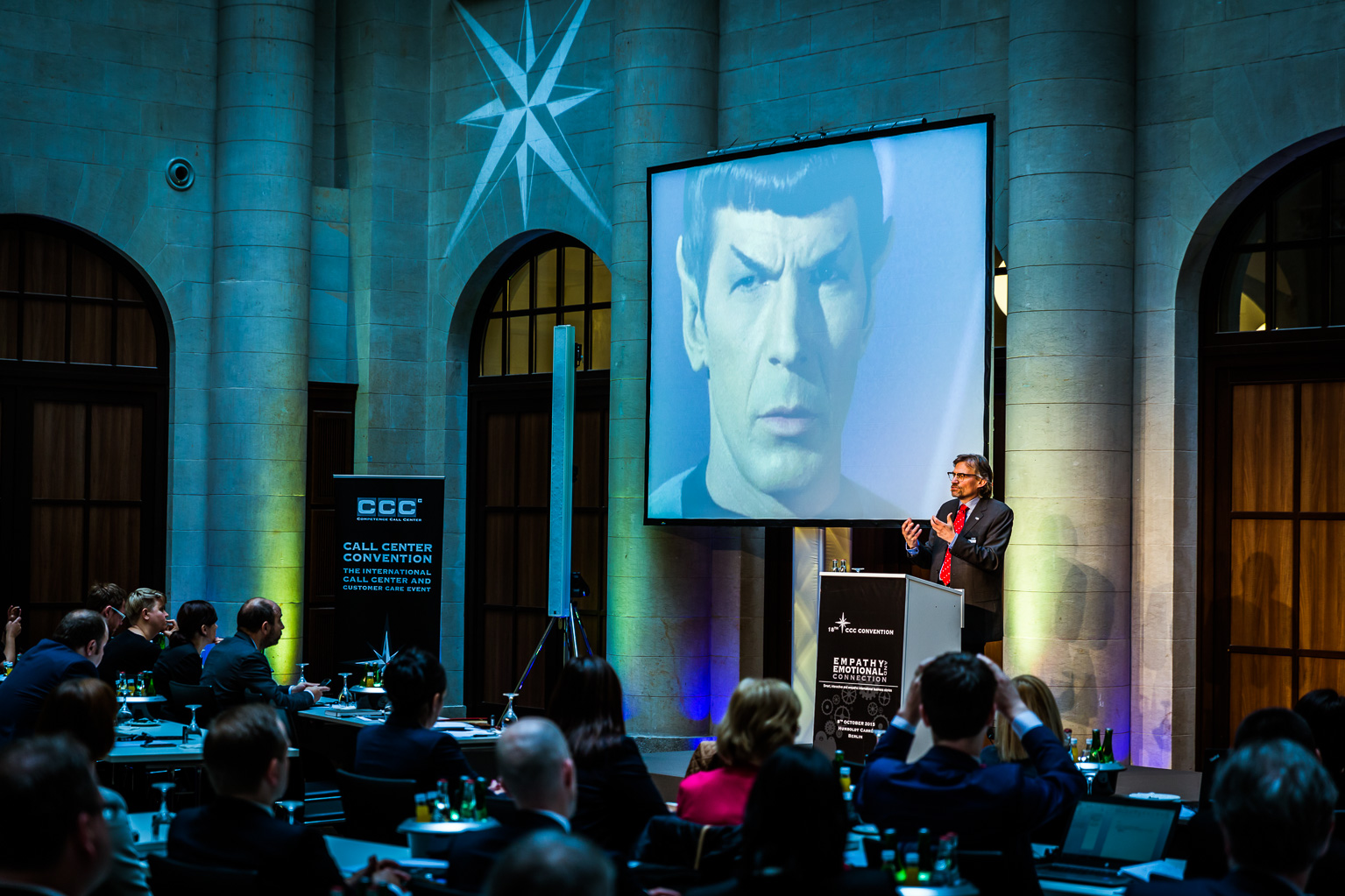 Inspiram Customer Service-ul – CCC Convention 2016
A 19-a editie a CCC Convention va avea loc pe 6 octombrie 2016.
Dupa evenimentele care au avut loc in Paris si Berlin, in acest an CCC Convention se va desfasura, din nou, in cadrul Studio 44, Viena.
Companii internationale vor prezenta afaceri de succes, modele si metode inovative de customer service, tema principala abordata fiind "Inspiram Customer Service-ul – Descopera povesti de succes despre produse si servicii extraordinare din Europa".
Intr-o industrie in care calitatea customer service-ului reprezinta un factor decisiv pentru succesul economic al unei companii, serviciile individuale si personalizate, precum si solutiile creative sunt esentiale.
Speakerii internationali din cadrul CCC Convention vor pune accent pe modul in care o experienta pozitiva cu un departament customer service poate fi atat de importanta pentru clienti incat acestia pot fi determinati sa recomande serviciile si altor persoane. Sase experti de Customer Care din multiple industrii si tari vor prezenta strategii si servicii a caror implementare presupune adoptarea unor metode inovatoare, extraordinare si, uneori, neconventionale.


Speakerii de anul acesta:
Bilal Asci, Customer Value Group Manager, n11.com, Turkey
Lutz Ackermann, Head of Operations, Verivox, Germany

Katharina Büeler, Touchpoint Managerin, SBB, Switzerland
Valerie Dagand, Co-Founder & CEO, Evenby, France

Kamales Lardi, Digital Strategist, Lardi & Partner Consulting GmbH, Switzerland

Razvan Predica, Senior Managament, eMAG, Romania
Moderation: Robert Murray, Bestselling Author and Speaker, Canada
Inspira-te din povestile de succes si produsele recunoscute la nivel global ale unor companii de renume in cadrul CCC Convention 2016.


Al 11-lea premiu special pentru CCC:
In 2016, al 11-lea premiu special CCC va fi acordat unui expert din industria de customer care pentru dedicare, implicare si rezultate deosebite, iar acesta va fi inclus in CCC Hall of Fame. In 2015, Maciej Bus, fondatorul Call Center Forum Polonia, s-a bucurat de acordarea celui de-al 10-lea premiu special CCC.
Fiti alaturi de Competence Call Center la deschiderea celei de-a 19-a editii a CCC Convention, pe 6 octombrie 2016!
Despre CCC Convention:
CCC Convention este un eveniment international de business si customer care si promoveaza schimbul de experienta intre cei mai importanti jucatori ai industriei. CCC Convention a fost lansat in 1998, la Viena, cu scopul de a profesionaliza si dezvolta imaginea industriei de customer care.
Astazi, evenimentul depaseste granitele impuse de industrie in fiecare an. Discursurile inspirationale si discutiile aprinse genereaza un schimb strategic de informatii de business valoroase cu privire la tendintele economice internationale, precum si modele de afaceri de succes.

In ultimii ani, companii de renume au dezvoltat evenimentul CCC Convention prin know-how si expertiza de business: ING BANK, Delivery Hero, Google, lululemon athletica, Immobilienscout24, Samsung, eBay, Plantronics, Safaricom Kenia, British Telecom UK, Media-Saturn, Sky, UPC Ungarn, Telefónica O2 Europe, TUI Deutschland, Orange Communications, DHL, Vodafone, Schweizerische Post, DaimlerChrysler, Henkel, Deutsche Telekom, Beiersdorf.


A 19-a editie a CCC Convention
"Inspiram Customer Service-ul – Descopera povesti de succes despre produse si servicii extraordinare din Europa"
Joi, 6 octombrie 2016, Studio 44, Viena Program: 12:00 – 19:00 urmat de un eveniment de networking Bilete: 990 EUR, fara TVA (inclusiv cina, mancare, bautura si prezentari)

Contact
Alexandra Chiorean
Manager, Int'l Business Events & Conferences
alexandra.chiorean@market-insiders.com
Marketing Insiders Group