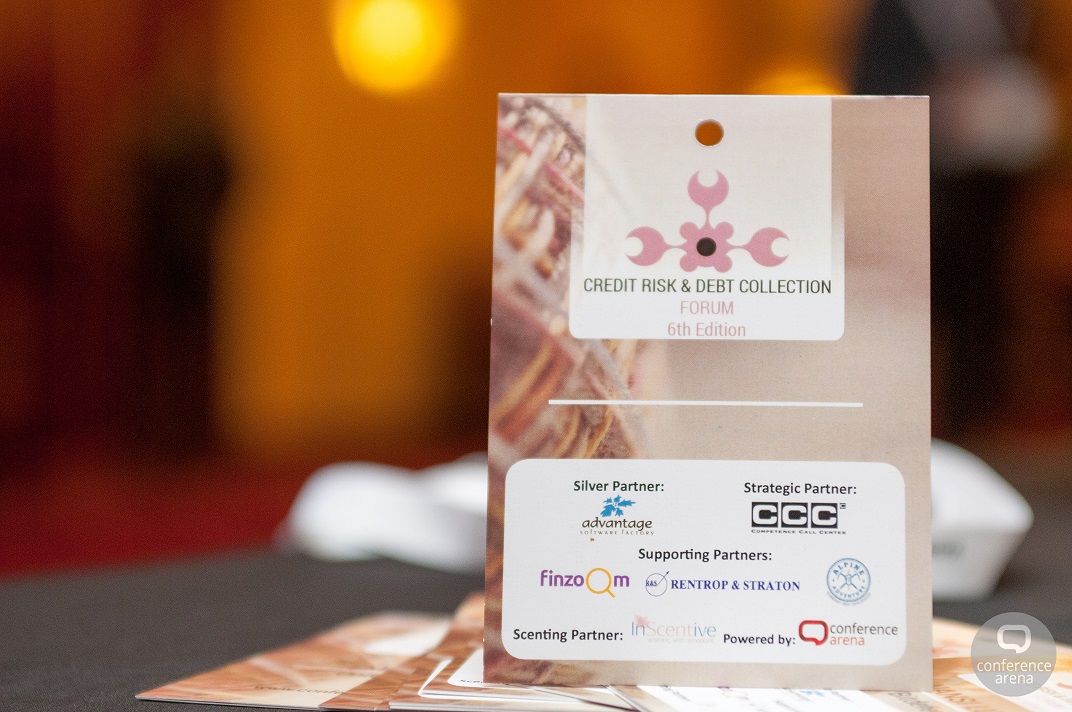 Credit Risk & Debt Collection Forum: despre detaliile care definesc succesul in colectarea de creante
"Externalizarea procesului de collection are impact asupra businessului, asupra procesului de recuperare a creantelor dar si asupra echipei. Exista avantaje ale externalizarii: o rata mai mare a creantelor recuperate, o mai buna productivitate a echipei care isi poate contentra eforturile pe activitatea de baza, protectia brandului companiei. Exista insa si riscuri asumate implicit, precum un control mai scazut asupra intregului proces de colectare."
A punctat Cristina Gheorghe-Coros, Senior Business Consultant, Customer Service School in cadrul celei de-a 6-a editii a
Credit Risk & Debt Collection Forum.
Evenimentul,
organizat de
Conference Arena
, membru Marketing Insiders Group, a avut loc
pe 26 ianuarie, la
JW Marriott Bucharest Grand Hotel.


Alaturi de Cristina Gheorghe-Coros speakeri in cadrul Credit Risk & Debt Collection Forum au fost:
Miruna Paunescu- Debt Collection Business Consultant Customer Service School,
Nusa Bulfinsky - Team Leader Early Collection ING Bank Romania,
Cristina Oprisor – Head of Collection, Raiffeisen Bank,
Emil Brezan-Head of Private Clients Collection, UniCredit Bank,
Youssef Hautier- Sonic + Pay,
Nansi Lungu- Lector Univ. dr. la catedra de Stiinte cognitive, Universitatea Titu Maiorescu si Behavior Analyst Bitdefender.
Conferinta a fost moderata de Ana Sebov, Senior Manager Forensic Services, PwC Romania. Printre subiectele dezbatute in cadrul conferintei mentionam:
Cele mai bune practici in procesul de colectare a creantelor.
Segmentarea eficienta a clientilor.
Motivatia angajatilor - un element cheie in succesul colectarii de creante.
Integrarea operatiunilor de colectare a datoriilor in Customer Experience.
La eveniment au participat aproximativ 100 top si middle manageri din industrii precum cea a serviciilor financiare, telecom, sanatate, retail, auto, real estate, legal.
Evenimentul s-a bucurat de sprijinul: Advantage Software Factory- Silver Partner, Competence Call Center – Strategic Partner, Alpine Adventure Romania, Finzoom, Rentrop & Straton - Supporting Partners, InScentive- Scenting Partner.


"Competence Call Center, unul dintre liderii pietei europene de customer service, este specializat in consolidarea relatiilor dintre branduri si clienti. Competence Call Center apreciaza schimbul de experienta, asa ca suntem fericiti sa sustinem dezbaterile din cadrul evenimentului Credit Risk & Debt Collection Forum."
Au declarat reprezentantii companiei.


Parteneri media: Manager.ro, Marketingportal.ro, Jurnalul de Afaceri, Banci si Bancomate, Romania libera, Doing Business, Kompass, 9AM, Urbo.


Pentru mai multe detalii va rog sa contactati:

Diana Nita | MARKETING INSIDERS GROUP
E-mail: diana.nita@market-insiders.com l Web: www.conference-arena.com


Despre Marketing Insiders Group

Descoperiti generatia de business multidisciplinara!

CONFERINTE INTERNATIONALE | CERCETARE DE PIATA | TRAINING PERSONALIZAT | BRANDING STRATEGIC
Pasiti in noua era de business cu cei mai buni experti de marketing, traineri si consultanti ai momentului sub acelasi acoperis vizionar. Cifre: 50 de branduri internationale in portofoliu; competente ATL, BTL si TTL; membri ai juriului Stevie Awards (Categoria Sales & Customer Service); peste 15 ani de know-how strategic de contact center (Asociatia Romana a Contact Centerelor, Romanian Contact Center Awards, Contact Center Magazine); 11 comunitati targetate de social media; mai mult de 100 de conferinte de afaceri organizate in Europa. Aflati mai multe vizitand: market-insiders.com.