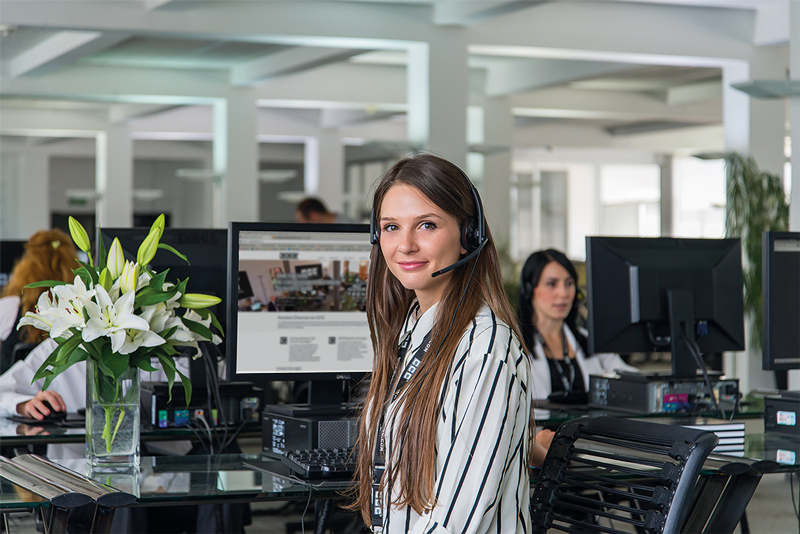 CCC Bucharest celebrates 10 years of excellent and rewarded customer service
We celebrate a decade on the Romanian market. With a second location in Brasov since 2014 our team is delighted to be an important member of the International CCC group. Partners from the local and international travel, telecommunication and eCommerce sector are supporting our continuous growth and significant local success.
Today our location in Bucharest operates on three floors with a team of 500 colleagues working on travel bookings, customer requests, chat, and back office services which aligns perfectly with the international Bestshoring- and multi-location-strategy of CCC.
With the opening of the second CCC office in Brasov in 2014 we are operating today successfully with 200 employees and offer a two location strategy with flexible and reliable partner processes for example for an big international eCommerce provider.
"After many years operating in the exciting Romanian market with excellent experiences with this strong, hardworking and entrepreneurial community I have seen many positive market developments and tremendous improvements. In the last decade we had the chance to realize exceptional partner projects, achieve great awards and recognize our outstanding team", says Call Center Director Heiner Witte.
Over the last years we are proud participants at the Romanian Contact Center Awards and we have been active partners at the professional conferences and expos. Our latest success at the market was for our team in Brasov in the category "Best People and Quality Management".
Our CCC Campus, the internal training and education program offers our employees in Romania a blended learning approach with a focus on the successful transfer of knowledge into our day to day business life.
We are currently looking for more than 100 new employees with customer service experience to become a member of the rewarded CCC Team in Bucharest and Brasov and to grow with us into the next decade of our success story.
Please visit our current job offers and meet the CCC Team in our open space, bright, friendly and modern loft offices.
CCC Bucharest and Brasov is especially looking for language skills in German, French, Spanish, Italian, and Romanian as along with support with our back office services in all those languages.
CCC is one of the leading BPO companies in Europe and has been offering high quality international customer care solutions for 19 years. More than 5.500 service professionals at 16 locations in 8 countries have created outstanding experiences whilst handling incoming calls, outgoing campaigns, written customer communication via E-mail, chat and social media as well as back-office activities. The high quality standards in CCC are recognized through 52 international business awards.
We have employees across Europe, having a strong focus on international expansion. Offices offer award-winning modern workspaces, highly motivated and dedicated teams, training opportunities for all professionals, along with compelling career opportunities on an international business level, flexibility in working hours and a fantastic team spirit.