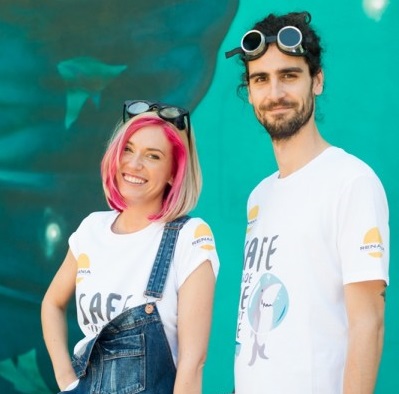 Alecsandra Popa & Javier Gelpi De-Fez reprezinta Romania la Cannes, Young Lions Cyber
Alecsandra Popa & Javier Gelpi De-Fez (aka Team Pump) s-au calificat in urma competitiilor de la The Alternative School pentru competitia Young Lions Cyber, ce va avea loc la Cannes. Festivalul va avea loc intre 18 si 25 iunie.
Ei vor concura pret de 24 de ore alaturi de cele mai bune echipe ale lumii, lucrand pe un brief cu vocatie sociala, apoi vor participa, vreme de o saptamana, la un regal de informatie si networking pe Croisette, acolo unde, la fiecare sfarsit de iunie, se reunesc varfurile creativitatii globale de 63 de ani.

Anul acesta, echipa de Young Lions Cyber este sustinuta de Renania, lider in importul si distributia de echipamente de protectie pe piata Romaneasca.

Despre castigatori

Alecs s-a nascut in Oradea, un orasel din vestul Romaniei. Dupa ce a studiat Stiinte Politice la Bucuresti si a absolvit cursul ArtDirectorsClub*Ro in 2011, a inceput un intership la Propaganda (o agentie locala) spre sfarsitul anului 2013, de unde a refuzat sa mai plece. The Alternative School i-a deschis calea spre alte tari, asa ca a facut un internship timp de 2 saptamani in Amsterdam, la Khanna / Reidinga.
Javier este nascut si crescut in Madrid. A absolvit Stiinte de Mediu si a intrat in Miami Ad School imediat dupa. Dupa experiente in SUA, Germania, Spania, in 2014 a gasit in sfarsit un loc pe care sa-l numeasca "acasa", la McCann / Momentum in Bucuresti. Un argint la Eurobest, precum si un bronz si doua shortlist-uri la Cannes Lions fac parte cu mandrie din portofoliul lui.
Echipa a luat parte la competitia The Alternative School si in 2015, insa au fost la doar cateva sutimi distanta fata de locul intai. Ambitiosi cum sunt, au revenit in semestrul Cannes 2016 mai puternici, rezultatul fiind absolvirea pe primul loc. Asadar, au castigat sansa de a participa in Young Lions Cyber, reprezentand Romania in una dintre cele mai acerbe competitii mondiale. Romania a castigat deja aurul in aceasta categorie in 2014, asa ca asteptarile sunt ridicate.
Renania sustine talentul romanesc
"La Renania, punem mare pret pe tehnologie si inovatie, acestia fiind pilonii pe care ne-am dezvoltat intr-o afacere moderna si de succes. De aceea suntem fericiti sa sustinem tanarul talent romanesc in competitia de Cyber. Am sprijinit The Alternative School timp de 4 ani, si continuam sa o facem pentru ca ei livreaza, de fiecare data. In 2013, echipa sustinuta de noi a castigat aurul la categoria Design si ne-a facut foarte mandri. Imi pare bine sa vad compania noastra inspirand excelenta," a declarat Florentina Taudor, General Manager Renania.

Despre The Alternative School
La jurizarile semestrului Cannes 2016, de la The Alternative School, au participat oameni de marketing si CEO, nume sonore din creativitatea locala si internationala: Luis Miguel Messianu (CEO Alma USA si jurat la Cannes 2016), Alvin Teoh (CD DDB Malaesia), David Khoo (CD, Chaos creative Malaesia), Hande Guler (CD, DDB Dubai), Theodor Pana (Marketing Director, Nikon Lenswear), Florentina Taudor (CEO Renania), Nicoleta Padure (CEO Media Concept Store si jurat roman la Eurobest si Dubai Lynx), Elena Hurjui (CEO, The Heraldist Cluj), Mihai Fetcu (CD, Geometry Global, premiat cu Gold la Cannes Lions 2015), Szabi Szekely (CEO Halcyon Mobile Cluj, multi-premiat in competitia globala de la FWA si jurat roman la Cannes Lions Mobile), Nir Refuah (CEO MRM / McCann, multipremiat la competitiile internationale cu focus pe creativitate digitala), Cristian Costea (ECD in Hamburg, castigator de trofeu Cannes Lions in 2015), Mihai Gongu (CD GMP, castigator de Grand Prix la Eurobest), Vlad Butucariu (Flio Stand / Studio Squash Rotterdam), Ioana Halunga (Creative, Havas Singapore).
The Alternative School se afla la cel de-al 11-lea an in care pregateste si trimite tineri creativi in cele mai acerbe competitii internationale, oferindu-le acestora si sansa specializarilor la cel mai respectat festival de creativitate la nivel global.
De-a lungul anilor, veteranii de la The Alternative School au adus Romaniei premii remarcabile: de 3 ori Gold la Roger Hatchuel, bronz la Print, Gold la Cyber si Design, shortlist la Young Clients. Absolventii celui mai premiat MBA Creativ din Sud Estul Europei au continuat sa castige distinctii internationale si sa performeze, unii in agentii locale, altii in hub-urile creative ale lumii: Singapore, New York, Hamburg, Rotterdam, Londra, Amsterdam sau Rio.
Peste 250 de tineri romani au beneficiat in ultimii 11 ani de specializari la Cannes, Eurobest sau Dubai Lynx prin intermediul programelor The Alternative School.