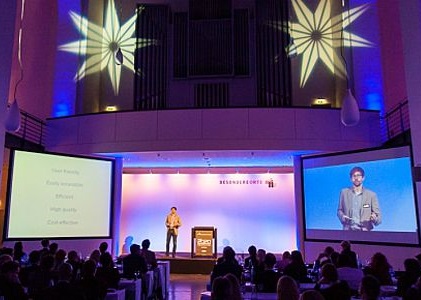 CCC Convention trece la următoarea etapă
Pe 8 octombrie 2015, în Berlin, CCC va întâmpina oaspeții celei de-a 18-a ediții a evenimentului internațional de business, focusat pe cele mai noi tendințe din domeniul Customer Care.

În cadrul ediției CCC Convention de anul acesta, care va avea loc pe 8 octombrie la Berlin, vom avea parte de "emoții". "Empathy and Emotional Connection: smart, interactive and empathic international business stories" – sub acest titlu, speakeri internaționali vor prezenta soluții inovatoare de business și vor stabili baza discuțiilor referitoare la importanța emoțiilor și a empatiei în contexte de business.
Înțelegerea nevoilor și cerințelor clientului sunt esențiale, mai ales atunci cand se realizează un Customer Service de succes. Înțelegerea, pe lângă simpla interacțiune, precum și crearea de valoare adaugată pentru fiecare contact în parte, sunt obiectivele principale. Astfel, devin posibile experiențe pozitive de durată, ce pot conduce către o poziționare și o diferențiere clară pe piața de nișă. Experți din industrii precum e-Commerce, financiar și telecomunicații vor prezenta concepte inteligente de business și viziuni inovatoare de viitor, bazate pe paradigma: "Simt, deci exist".

Speakerii de anul acesta:
Alper Alten
, Customer Services Quality Management and Planning Senior Management, Vodafone Turkey, Turcia
Ela Banu
, Head of Advisory Contact Centres & Mihaela Predica, Head of Business Area (Accounts, Payments, Value Added Services), ING BANK, Romania
Ilker Baydar, CEO, Markafoni, Zizigo, Enmoda, Misspera at Naspers Group Turkey, Turcia
Carmen Beissner, Global Director Customer Care & CRM, Delivery Hero/Lieferheld, Germania,
Driss Saibi, Deputy CTO, Priceminister, Franța.

Al 10-lea Premiu Special CCC:
Un jubileu special vă așteptă la ediția CCC Convention din acest an. Pentru a 10-a oară vom recompensa o personalitate importantă cu Premiul Special CCC și ii vom oferi un loc în CCC Hall of Fame, în semn de recunoștință pentru devotamentul și implicarea sa în dezvoltarea industriei de Customer Care.
În cadrul ediției CCC Convention din data de 8 octombrie, veți putea afla cine va fi caștigătorul din acest an.

Despre Conventia CCC:
Convenția CCC este un eveniment internațional de business și customer care, ce promovează schimbul de experiență dintre experți internaționali din domeniu.
Convenția CCC a fost lansată în 1998, în Viena, cu scopul de a profesionaliza și dezvolta imaginea industriei pe piața specifică.
Astăzi, Convenția depășește limitelele industriei în fiecare an. Speech-urile specializate și discuțiile libere produc idei valoroase de business cu privire la tendințele economice internaționale și modele de business de succes.

În ultimii ani, companii de top au contribuit la evoluția Convenției CCC prin expertiza profesională:
Google, lululemon athletica, Immobilienscout24, Samsung, eBay, Plantronics, Safaricom Kenia, British Telecom UK, Media-Saturn, Sky, UPC Ungarn, Telefónica O2 Europe, TUI Deutschland, Orange Communications, DHL, Vodafone, Schweizerische Post, DaimlerChrysler, Henkel, Deutsche Telekom, Beiersdorf și multe altele.

A 18-a ediție a Convenției CCC

"Empathy and Emotional Connection: smart, interactive and empathic international business stories"

Joi, 8 Octombrie 2015, Humboldt Carre, Berlin
Program: 12:00 – 19:00 Care se continuă cu evenimente de networking.
Prețul biletului: 990 Euro (Inclus: reuninune de seară, mâncare și băuturi, materialele de prezentare)

Contact CCC Convention
Irene Husczawa
Events
Compentence Call Center
E-Mail: convention@yourccc.com