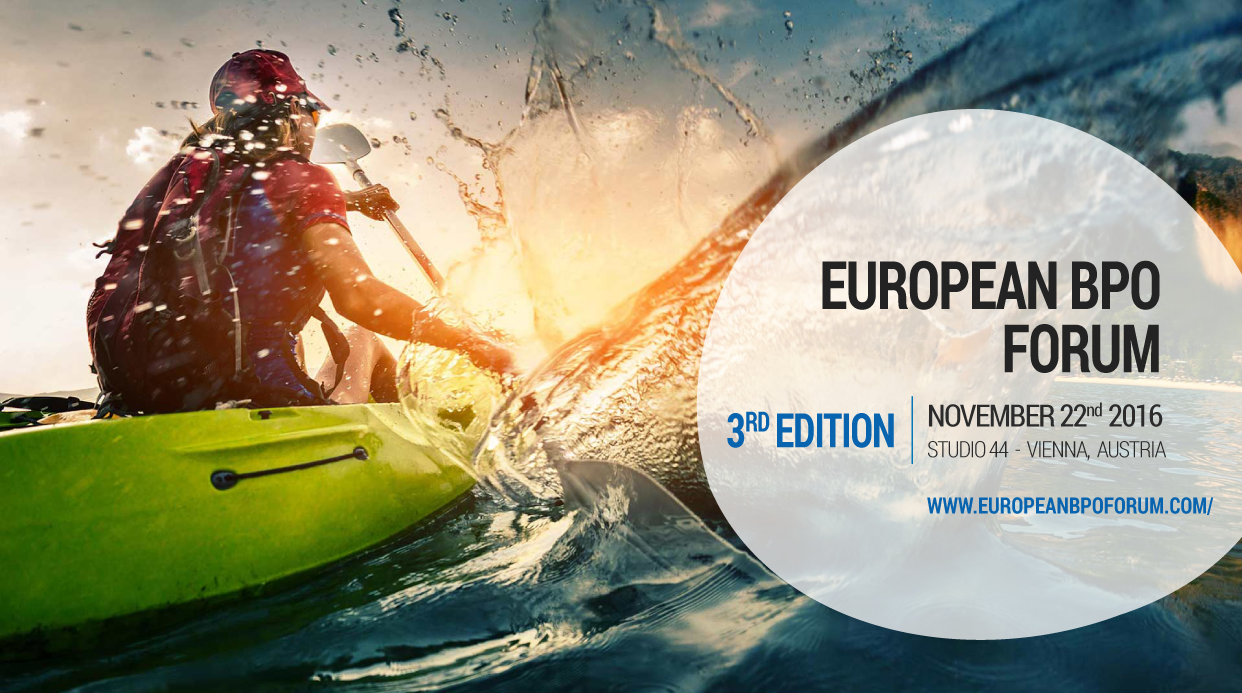 Design your ideas, get the newest BPO solutions and connect with your peers at European BPO Forum's third edition
Marketing Insiders Group
organizes the 3rd edition of European BPO Forum, on November 22nd, at Studio 44, in Vienna.

European BPO Forum brings once again together decision makers from major global organizations, top leaders from European BPO companies and Embassy & Consulate officials, focusing on specific needs and customized solutions for both BPO providers and beneficiaries. The organizers orchestrate a unified, niche business community, supporting its evolution and promoting its values and accomplishments.
Milos Miljkovic, Senior Integration Manager at Trizma, shared his experience at the second edition of European BPO Forum: "BPO forum is one of the rare platforms where new trends are presented in a form that allows fast implementation. It is positioned between trend prediction and operational knowledge exchange, which is creating different and refreshing dynamics of the event. Even sponsor presentations are following the same trend. Quite unique and refreshing platform.''
The third edition reunites 8 international speakers that will debate topics like: customer and employee care, cloud computing and contact center solutions, lean process optimization when using the power of Kaizen, nowadays opportunities and challenges based on geographic positioning, corporate governance, ethics and culture and, also, workplace of the future.


The names of the ones that will delight the audience and weave the story:
- Paul Thomas, Managing Director, EMEA, Five9
- Andreas Fleschurz, Owner&Director, Wir Kunde

- Michal Gora, Member of the Board, Alfaxov
- Boris Vujicic, Chairman, Trizma

- Elena Gradinaru, Mutualized CCC Director, Schneider Electric

- Bogdan Mazuru, Ambassador of Romania to Republic of Austria
- Simona Trofin, Head of Customer Service, Enel Romania
- Giangaspero Paolo, Call Center Manager, Team Verbis
- Ron Haimovich, Vendor Manager, eBay
The moderator of this third edition will be Dr. Amalia Jansel, Business Development Director at European Board for Certified Counselors.

European BPO Forum
benefits from the valuable support of our partners: Five9 – Accelerate Partner, Alfavox – Start Sponsor, Outsource Magazine, Embassy of Romania to Austria, Pro Progressio, Outsourcing Verband, IAOP, Valoris Center – Strategic Partners, Wir Kunde, Optima Solutions Services, Enel Romania – Supporting Partners, Austrian Airlines – Airline Partner, DHL – Logistic Partner.


The conference's media partners are: Contact Management Magazine, Call Center Profi, CEO World Magazine, Call Center Verband, Outsourcing Journal, Outsourcing Portal International, Call Center Forum Poland, Outsourcing & More, CluJ IT.


For more info, please visit our site at: http://www.europeanbpoforum.com/registration.html or contact us via mobile: +40 749 47 45 49 or e-mail: andrei.grigorescu@market-insiders.com



About Marketing Insiders Group
Experience the multidisciplinary business generation!
INTERNATIONAL CONFERENCES | MARKET RESEARCH | CUSTOMIZED TRAINING | STRATEGIC BRANDING
Discover the new business era with the best marketing experts, trainers and consultants under one visionary roof! Facts: over 50 international brands in the Marketing Insiders Group portfolio; ATL, BTL and TTL competences; part of the Stevie Awards Jury (Sales & Customer Service Category); over 15 years of contact center strategy expertize (Romanian Contact Center Association, Romanian Contact Center Awards, Contact Center Magazine); 11 targeted social media communities; more than 100 business conferences in Europe. Learn more, visit market-insiders.com.
CONTACT

ANDREI GRIGORESCU

Project Manager

77 Popa Savu St., 011432, District 1, Bucharest l Phone: +40 21 411 44 20 l Mobile: +40 749 47 45 49 l Skype: andreigrigorescu1
conference-arena.com l customerserviceschool.ro l mysteryshoppingagency.ro l expomedia.ro